Preparation: 1 to 8 working days (Monday to Friday, excluding holidays) 
Delivery: 1 to 3 working days by Chronopost, 2 to 8 working days by carrier for France, 3 to 10 working days for Europe
Home delivery, FRANCE: for plants under 1 m and a total of less than 25 litres: 12,90 € tax included by Chronopost (no deliveries on Saturday)
Store Pick-up delivery, FRANCE: for plants under 80 cm and a total of less than 15 litres: 8,90 € tax included by Chronopost (no deliveries on Saturday)
Home delivery, Corsica: for plants under 1 m and a total of less than 25 litres: 33,90 € tax included by Chronopost (no deliveries on Saturday)
Store Pick-up delivery, Corsica: for plants under 80 cm and a total of less than 15 litres: 8,90 € tax included by Chronopost (no deliveries on Saturday)
Home delivery, EUROPE: for plants under 1 m and a total of less than 25 litres: 22 to 40 € tax excluded, by Chronopost
0-5 litres: 22 € plus tax
10-15 litres: 30 € plus tax
15-25 litres: 40 € plus tax
LOCAL TAXES APPLY.
LARGER ORDERS are delivered by carrier (DBSchenker or Kuehne Nagel in France, Ziegler in Europe). Deliveries are made from Monday to Friday, at the entrance of your property.
PLEASE NOTE that our plants can not be delivered to some islands and/or remote locations (Madeira, Cyprus, Malta, ...). We will make an immediate refund if that is the case.
Prices for France according to weight and distance: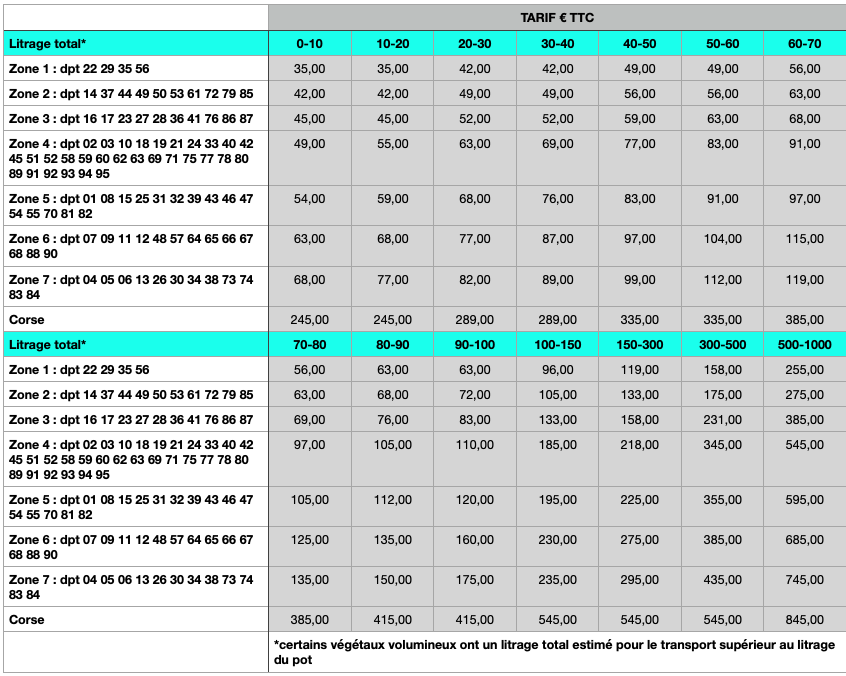 Examples of prices for Europe:
Germany, Belgium, Netherlands
1 to 49 litres: 160 € + local taxes
50 to 99 litres: 180 € + local taxes
100 to 199 litres: 200 € + local taxes
200 to 300 litres: 275 € + local taxes
Italy, Spain:
1 to 49 litres: 180 € + local taxes
50 to 99 litres: 210 € + local taxes
100 to 199 litres: 250 € + local taxes
200 to 300 litres: 325 € + local taxes
Denmark, Ireland, Portugal, Greece :
1 to 49 litres: 300 € + local taxes
50 to 99 litres: 375 € + local taxes
100 to 199 litres: 415 € + local taxes
200 to 300 litres: 485 € + local taxes
UK: we have been forced to stop shippings to the UK after huge delays and grotesque administrative requirements caused by Brexit.
Switzerland, Norway, Liechtenstein: after some issues with paperwork and longer delays in customs, we no longer ship plants outside the European Union.
DOM TOM: current laws do not allow us to ship plants to these territories.
Please check your address carefully: changing the delivery address is not possible once Chronopost have picked up the order. Carriers charge at least 60 € to change the address after the order has been picked up.
Les colis de plus de 25 litres ou contenant un végétal de plus d'un mètre sont acheminés par transporteur (DBSchenker ou Kuehne-Nagel, livraison sur rendez-vous, créneau d'une 1/2 journée au d'une journée selon la taille des tournées). Attention, la livraison se fait par camion porteur, il est nécessaire que l'accès et le demi-tour soient possibles, sinon le chauffeur sera obligé de vous livrer au bout de la rue.
Les végétaux  sont placés sur des petites palettes adaptées, où ils sont filmés et protégés. Ils sont livrés à l'entrée de votre domicile ou de votre immeuble, sous 2 à 8 jours ouvrés, selon la distance à partir de notre pépinière. Les frais de transport dépendent du poids estimé de la palette et de votre département. Les palettes  sont préparées sous 2 à 8 jours après commande, et sont livrées ensuite AU PIED DE LA PORTE sous 2 à 8 jours ouvrés.
ATTENTION, les livreurs doivent juste descendre la palette du camion, certains peuvent prendre le temps d'en faire plus mais n'y sont pas tenus.
Le calcul des frais de port se fait selon le litrage et le volume des plantes, pas seulement au poids (celui-ci pouvant varier grandement en fonction de l'humidité des plants). 
Pour certaines plantes, nous sommes obligés de mettre un volume plus important que le litrage, pour éviter qu'elles ne passent en colis quand elles sont trop grandes, ce qui a l'inconvénient de surévaluer le volume total.
Droit de rétractation : conformément à la loi, vous disposez d'un délai de rétractation de 14 jours. Si l'article a déjà été expédié, les frais de retour sont à votre charge. Voir le texte de loi complet ici.