COVID 19 - The nursery in Brittany is closed, but shippings continue.
We will be delighted to welcome you later to our nursery near Quimper (Brittany, France), every Saturday and Sunday morning from 9.30 AM to 1 PM.
Coming from Quimper, follow 'Pont l'Abbé', and when you are on the express way, take the second exit (ZA de Bel Air), turn left at the top, then drive for 200 metres, the nursery is on your left.
Coming from Pont L'Abbé, take the express way to Quimper and take the 'ZA de Bel Air exit', go straight ahead at the first roundabout, the second exit at the second roundabout, then drive over the expressway, the nursery is about 300 metres further, on your left.
GPS coordinates: 47.972218, -4.145634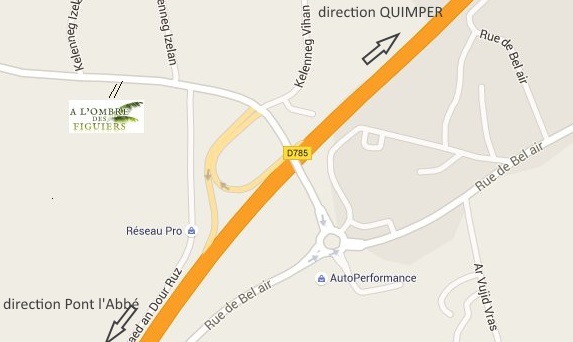 Alternative route in grey during road works, take the 'Ti Lipig' exit coming from Pont l'Abbé (no change from Quimper, see above).